2016년 6월 2일 연철웅 기자 bruceyeon@koreaittimes.com
Refrigeration & air conditioning controllers, digital pressure switch, temperature & humidity transmitter and others will be launched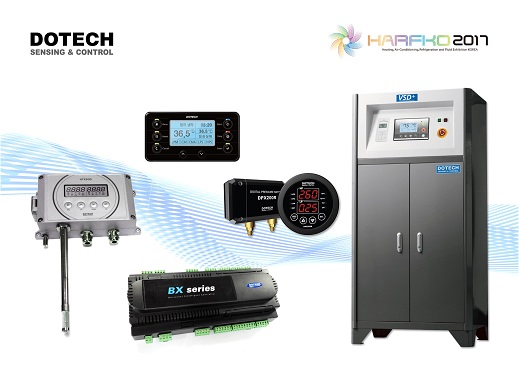 DOTECH Inc. (CEO Deuknam Choi) will be participated in the 14th Heating Air-Conditioning and Fluid Exhibition KOREA (HARFKO) from March 7th to 10th 2017, and announced about launching various refrigeration & air conditioning parts such as controllers, temperature or/and humidity transmitters, differential pressure sensors and others.

Cooler controllers, heat pump controllers, air conditioner controllers, electronic refrigerant pressure switch, air compressor energy saving control devices, temperature/humidity transmitters, pressure sensors and other latest products will be displayed on this exhibition. These are manufactured with DOTECH's specialized techniques which are the top selling products of DOTECH.

A series of Heat Pump Controller BX1500 is a multifunctional and high efficient controller which controls two screw compressors with proven control logic. The system's efficiency has enhanced via a link of accurate defrosting detection and electronic expansion valve controller.

A series of Chiller Controller CX9320 contains a high precision super PID control algorithm that controls temperature of ±0.1 degree. Also, it has various analog outputs and can be set easily.

Pressure switch DPX200R for refrigerator is the digital pressure switch that separated into driving part and control panel. It contains a high precision digital control with low/high pressure sensor that detects tolerance of ±1.0%, and reduced noise and leakage in refrigeration with DOTECH's unique mechanisms.

Temperature & humidity transmitter HTP 1100 is a compact probe type which provides a high reliability of temperature and humidity's measurement. It contains IP65 rating with metal enclosure, measures wide range of temperature and humidity as well as gives a various outputs of digital, communication, pressures..etc.

DOTECH Inc. has developed and produced around 200 products with core technologies and import these items over 40 countries since establishment of the company in 2001.